Bugenès Melissae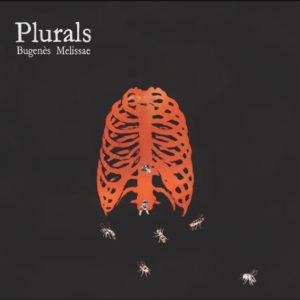 "Is it the bees? Yes, they're swarming, high above us, all around. And someone is calling them. Someone, or something. An inhuman voice, like blood on the wind. And the bees are responding." – The Quietus
500 copies on orange vinyl, housed in a 100% recycled card sleeve. Comes with free download code. The first 100 copies come with an exclusive pack of wildflower seeds.
Tracklist:
A – Behaved Like Mercury (17:57)
B – Kamu (22:03)
The Band:
Oaken Palace Records not only focuses on already well-known artists and bands, but aims to promote promising newcomers as well. After supporting Aidan Baker/Nadja on an extensive tour and releasing a collaborative album with Aidan as part of Southern Records' Latitudes series, Brighton-based Droners Plurals will therefore dedicate a whole new album to mother nature.
Bugenès Melissae refers to the ancient Mediterranean myth that bees can be generated from a cow's carcass, and can be translated as "oxen-born bees". Here is an old description of the ritual:
"Build a house, ten cubits high, with all the sides of equal dimensions, with one door, and four windows, one on each side; put an ox into it, thirty months old, very fat and fleshy; let a number of young men kill him by beating him violently with clubs, so as to mangle both flesh and bones, but taking care not to shed any blood; let all the orifices, mouth, eyes, nose etc. be stopped up with clean and fine linen, impregnated with pitch; let a quantity of thyme be strewed under the reclining animal, and then let windows and doors be closed and covered with a thick coating of clay, to prevent the access of air or wind. Three weeks latter let the house be opened, and let light and fresh air get access to it, except from the side from which the wind blows strongest. After eleven days you will find the house full of bees, hanging together in clusters, and nothing left of the ox but horns, bones and hair."
Stream the album in full below:
The Animal: Bee (Anthophila) and Bumblebee (Bombus)

Bugenès Melissae is dedicated to bees, and all profits will be donated to the Bumblebee Conservation Trust.
It has been estimated that a staggering 97% of the UK's flower-rich grassland has been lost due to changes in agriculture since the 1930s. This has already led to the extinction of 2 species of bumblebees, and many more species of bees and bumblebees are threatened. Bees and bumblebees play a key role in producing the food we eat, and also help pollinate many wildflowers, allowing them to reproduce. Without this pollination many of these plants would not produce seeds, resulting in declines in wildflowers. As these plants are often the basis of complex food chains, it is easy to imagine how other wildlife such as other insects, birds and mammals would all suffer if bees disappeared.
Read more about the role of bees and bumblebees here.
Reviews:
"Somewhere, a giant is breathing, as if in deep sleep. The loop repeats, warm tones that suggest melody without ever combining into one. Someone screams out, and tries to wake. But all is dream. A dream of bees. A disappearing dream of bees."
The Quietus
"Plurals channel something only Plurals can access, and it makes records like these unique artifacts."
Was Ist Das
"For what seems quite minimalist, a lot also seems to be going on. Various sounds come and go throughout, while often a basic sound is maintained as well. Yet even this shifts, changing pitch to collaborate with a different level of being, a new way of seeing the world, and seeing yourself."
Heathen Harvest
"The drone on side A builds in a very slow crescendo from really quiet to fairly quiet, with some gentle tremolo picked guitar and whooshing cymbal work becoming increasingly present through its second half. Over on the other side there's a spacey drone from either a synth or processed guitar, I can't tell, and there's lots of reedy squeaking over the top and then some anarchic piano plonking, which all settles down to a long, flat dronechord which is quite hypnotic."
Norman Records
"Yes, all in all it's a delightful bit of very very droney music. Recommended if you like twenty minute long beatless soundscapes for sure."
The Sleeping Shaman
"I've found after much exploration that Bugenès Melissae defies basic categorization or even my typical experiential writing."
Black Metal And Brews
"Experimentell, krautrockig, dronig, spacig, rockig…[…] Das Ergebnis sind zwei epische, warme und optimistische Aufnahmen, die auch gerne mal sinnbildlich für einen ereignisreichen Arbeitstag einer Biene oder Hummel verstanden werden können."
THEPOSTROCK
"Bugenès Melissae vibre comme un essaim dans la chaleur de midi, les bourdons, riches et hypnotiques, frémissent et alternent interminables plages fascinantes et aiguillons menaçants."
Indie Rock Mag