It's been quite a while since I posted something here – apologies to all of you who don't use Facebook/Twitter and just follow these blog posts! Lots of things have happened, so let's try to give them some structure:
1. Donations:
First things first. By now, all but one release (OAK004) have covered cost and are making profit. The first donations from sales of the Parallel Lines LP (OAK001) and the thisquietarmy CS (OAK006) will follow very soon. We have also donated another massive £850 to the Orangutan Foundation, all from profits of Eternal Tapestry's Guru Overload. By the way: This release is almost sold out, so if you still want to get a copy, act fast! Here is the Thank You letter we received from the Orangutan Foundation: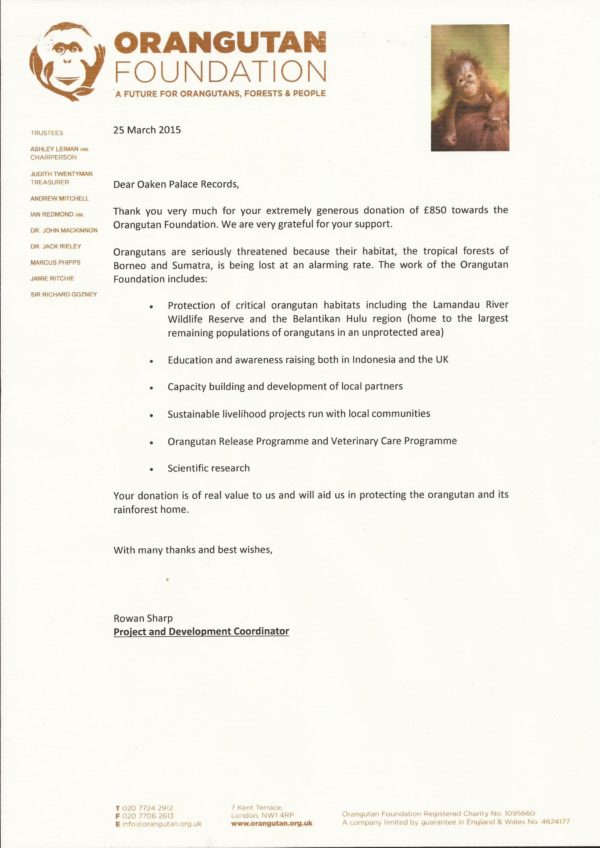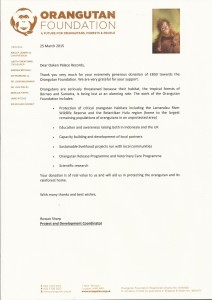 2. New Releases
There are three more releases planned for 2015. Next up is the brain-melting new LP by Blown Out, featuring members of Bong, Drunk In Hell, Haikai No Ku, 11Paranoias, Khunnt, and Pigs Pigs Pigs. The album, entitled "Planetary Engineering", is dedicated to the Aye-aye and will be released in late May/early June, and test pressings are scheduled to arrive on 22nd April. Here is a promo video to ease the wait:
Following in summer will be an all-new offering from Expo '70, who has dedicated four beautifully crafted drones to the Flores hawk-eagle, of which only about 100 pairs remain in the wild. The album has been recorded directly onto 1/4″ tape and will get a fully analogue mastering for vinyl, i.e. the tracks will not be digitized at any point of the process for the best possible sound.
Finally, we have something really special for you: The last album in 2015 will be a new solo record by no other than Earth's very own Dylan Carlson under his moniker drcarlsonalbion. As you might know, Dylan has a special relationship with the United Kingdom, and is very enthusiastic about this release!
3. Label Shirt
We will soon put up the first Oaken Palace Records label shirt. It will only be available via pre-order and will be made from organic cotton or hemp (currently checking options). Here is a first glimpse of the design – lettering still has to be added: